Ok I think it's finally time I actually sit down and write an LJ entry!!!! Well where do I start? So much has happened since I last actually wrote an entry; I guess I should probably start with my trip to Darwin as it has to be the most exciting thing that has happened in the last few months!
Well Nan, Sara and I flew out of Sydney Airport on 22nd July, it was a one hour flight to Brisbane, followed by sitting at Brissie airport for about 3 hours before a five hour flight to Darwin, when we finally arrived it was like 1.30 in the morning so we quickly showered got into our jammies and went to bed exhausted!!!
The following morning mum (who was already in Darwin for a few days before we got there) came and got us out of bed nice and early (I'm talking 630 am after we had only gotten in at 130 I was ready to kill her!!!) so we could explore the city together as she didn't have any games that day!!
So we went and hired a car so we could drive ourselves around and off we went exploring. To begin with we just drove around the city itself; it is totally different to any other city in Australia!! A lot of it I think has to do with the fact that all the buildings are very modern, having been rebuilt after first the war and then Tracey had destroyed all the previous buildings. It's also a lot less busy then our other cities, it was very beautiful though!! One of the worst things though was the heat! I mean it was the middle of winter and the temp was in the high 30s! Plus don't even get me started on the humidity…of course those temps aren't exactly unusual us Aussies are very used to that and worse…just not in the middle of winter!!
Anyway in the afternoon we went to the WWII oil storage tunnels, these things were amazing they were built after 11 above ground oil storage areas were destroyed in the first Darwin bombing, so in 1942 it was decided that future storage should take place underground to prevent it happening again. The interesting thing is that it was not announced publicly that this would be happening so the tunnels were constructed entirely by hand using picks and shovels! The total cost of building the tunnels was 1 087 808 pounds!!! The problem was by the time they were finished the war was over, so the tunnels were never used!! Ahh you gotta love our government!!! After the tunnels we explored the Stokes Hill wharf which is a working port (in fact there was a Navy ship come in while we were there, lots of yummy sailors to look at lol). We finally went back to the hotel and had a little nap before heading to the Mindil Beach Markets, these markets are run every Thursday and Sunday nights on the beach… it was great fun looking around all the stalls and watching the sunset on the beach!!
Sunset on Mindil Beach
On Monday 23rd July Nan, Sara and I were booked to go on a bus tour of Kakadu National Park, the biggest National Park in Australia!! We were all very excited so we all got up early…unfortunately it didn't take us as long as we thought it would to get ready so by 6.05 we were ready for our 6.30 pick up, so at 6.10 we went and stood out the front waiting for our bus to get there…when it hadn't shown up by 6.55 we knew there was a problem, so we rang the company and found out that the bus had actually been there at 6, not 6.30 like our paperwork said!!! So we had missed the trip…luckily they were able to book us on the trip for the Wednesday instead but as you can imagine we were pissed!!! Especially since we had all been up early and were ready at the time the bus was actually there!!!
So after much debate we decided that Nan, Sara and I would spend the morning at Crocodylus Park, a working crocodile park. For any of you who may be fans of the Amazing Race in the latest series this is the park where the hippies had to hop into the pit with the crocodiles to collect the next clue!! The park itself was quite interesting though the tour went on a bit long and with the heat it was a bit much for Nan so we didn't stay right till the end, but we did get to see the jumping crocodiles which are an amazing site. They also had a fair few other animals at the park including many Australian natives, a large array of monkeys and some big cats. The tigers were an amazing site as one of them was eating right up against the plexiglass; you were literally 10 cms away from this tiger as it was eating!!!!
In the afternoon we went to the hockey fields to watch Mum play, unfortunately we lost (an ongoing theme for the competition lol) but we played a good game anyway…especially because hockey is a winter sport here so none of the women were really used to playing in the extreme heat except maybe the NT girls.
The Croc Pit the "Hippies" climbed into!!!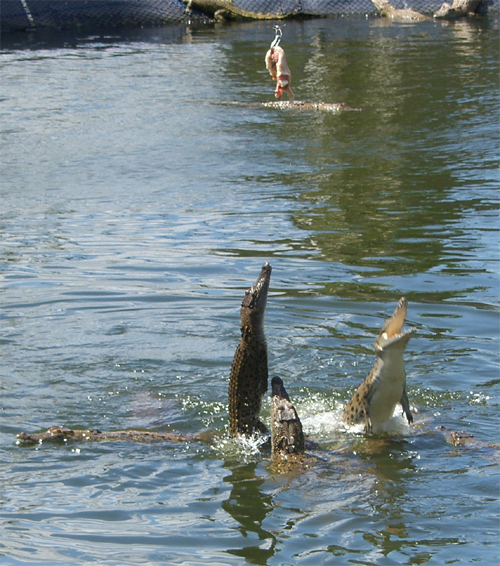 The Jumping Crocs - an amazing site!!!




Tiger really really up close!!!

Tuesday was one of the best days we had the whole trip! Mum had a game free day so we drove down to Litchfield National Park, while not as big as Kakadu in a lot of ways I thought it was more spectacular!! The whole place was just beautiful; it is such a different landscape, until you have seen it you can't even imagine it! I have been to a lot of places in Australia but this was in a league all of its own! Luckily there had been a big wet last year so there was a lot more water then there usually is in July, so all the falls were flowing, we visited most of them, unfortunately we couldn't really do the walks to the bottom of any of them as I would have liked to, but there was no way that Nan could have done it so instead we just visited the viewing platforms and things like that, but even just doing that was spectacular. The other great thing is that there isn't many crocodiles in Litchfield and so there is designated swimming holes, they are monitored each morning to make sure there is def no crocs but you still don't feel 100% safe LOL, however with the heat of the day a swim was def on the cards, I went swimming at 2 of the places we stopped and it was glorious!!
While in Litchfield we also stopped at the termite mounds…these were just bizarre, there were several different types of mounds made by different species of termites, the cathedral mounds are the ones that are most common all around Australia but the ones that really struck me were the magnetic mounds, they are called that because they are always built with an alignment that matches with the earths magnetic N-S alignment! That in itself is amazing but they were also weird because they were all built in a field and it just looked like this enormous graveyard!!!
Tuesday was I think my favourite day up north, it was good because it was just the four of us exploring and while it was busy at a few of the sites there weren't 1000's of tourists around…something I didn't truly appreciate till the next day at Kakadu.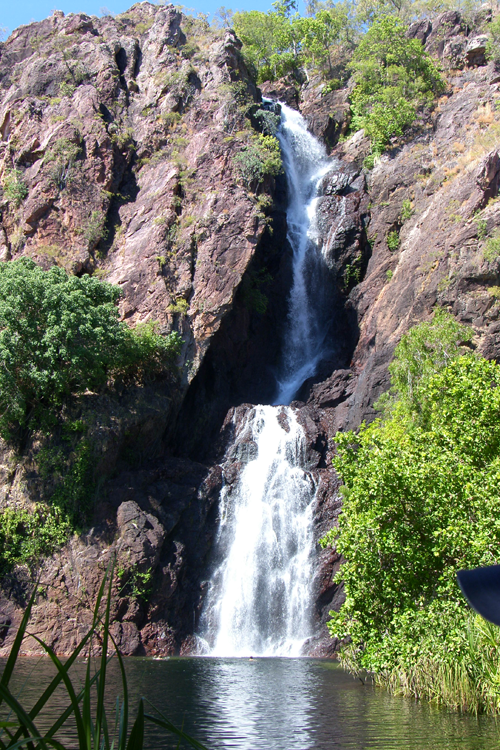 Wangi Falls - One of the sites where we went swimming


Magnetic Termite Mounds - See what I mean about the cemetary thing lol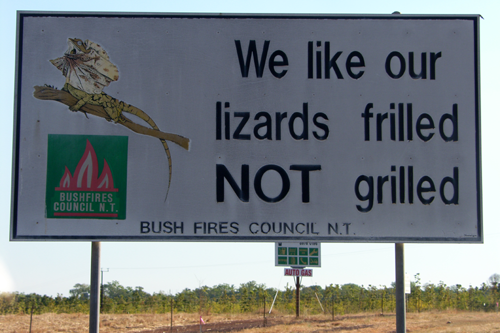 I made Mum stop the car so I could take a photo of this sign, gotta love Aussie humour lol!!!

On the Wednesday morning we were up even earlier then we had been on the Monday morning, by 5.50am we were standing out front waiting for the bus to arrive…there was no way we were going to miss it this time!! At 6 on the dot the bus turned up and after picking up the other passengers we were dropped at the bus depot. There were several tours going that day one to Kakadu and one to Katherine. After finding which bus we needed to be on we found a seat and were soon on our way for the 2 hour drive to Kakadu. We were lucky enough to have a female bus driver on our tour and she was an absolute hoot!!! She really helped make the day, she started the tour by introducing herself and then asking us if we were all looking forward to our day in Katherine, after a chorus of "NO!!" and a lot of panicked passengers she says "Why not who's on the wrong bus? Shit it must be me again!!" and so it went the whole day she was hilarious…and also very smart she liked to play the bogan but at one of the stops I had quite a chat with her about the aboriginal community in and around Darwin and the role they now play in the national park system, it was very interesting!
Anyway it was quite a way to actually get into Kakadu but when we finally arrived it was just astounding, I have wanted to go to Kakadu my whole life and when I finally got there it was just as beautiful as I imagined…there was just one downside, it seemed everyone else wanted to visit Kakadu too!! There was just tourists everywhere, every time we stopped somewhere there was at least 12 other coaches there, plus the people that were driving themselves around, it was just stupid I mean here it is supposed to be this isolated natural wonder and instead it was just a tourist city!!! So on that side of things I was very disappointed and while it was frustrating it couldn't take away from the beauty that is Kakadu!! One of the highlights of the day was a trip aboard a boat on the wetlands called the "Yellow Waters Cruise" The wetlands had more water then they usually do at this time of year so the bird life was extraordinary, plus we saw about 50 crocs in the hour we were on the boat…that was a bit scary seeing these huge animals that you know could destroy the dinghy you are in if they really wanted to!!! But for the most part they were happy just to sit in the sun and show off, there was really only one that gave us a bit of a scare by waiting until we stopped in a cove and then taking off under the boat…I'm not sure where he went, I was actually quite happy that he didn't resurface, especially as I was standing up at the front of the boat taking pictures at the time he decided to come right at us lol.
We also visited quite a few aboriginal artwork sites. These were beautiful, very different to some of the other sites I have seen in the outback!
At the end of the day Kakadu was breathtaking even with all the tourists but I would def like to go back one day and explore it properly, actually do it myself in a 4WD and go to all the places the tourist buses can't go, then I think I could really appreciate it!!
Crocs up close and personal!!!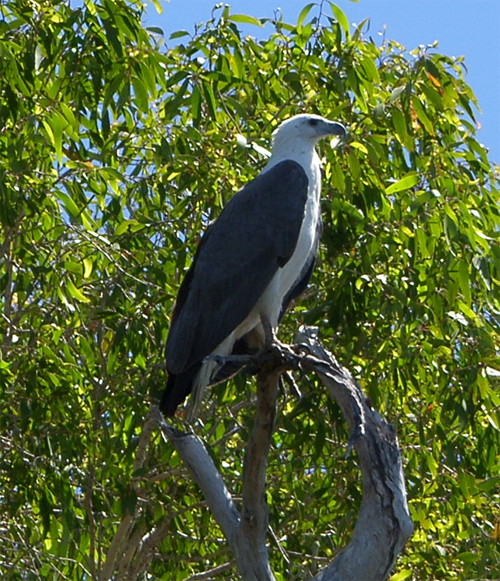 A beautiful Kite - just one of thousands of birds we saw on the yellow waters cruise




Aboriginal Rock Art - one of the Koori creator gods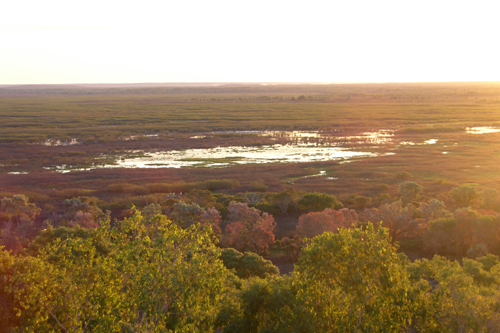 Sunset over Kakadu Wetlands
By the time we got back to Darwin it was almost nine at night and we were all exhausted, Nan especially, while she enjoyed it I think it may have been a bit much for her. When we got back to the hotel we packed ready for the 130 am flight back to Sydney, thank god we were only stopped in Brissie for 45mins this time round, but by the time we were picked up at the airport and drove back to Camden I was about ready to pass out, I ended up getting back to Nan's and sleeping for about 5 hrs!!! But the trip while short was most certainly worth it!!!
The main reason we went though was for Mum's hockey, so it was disapointing we only saw one game, she really enjoyed it though...even though they came 7th (for those who don't know Australia only has 5 states and 2 territories so that puts them in last place lol)
The ACT girls - My Mum is at the very left in the back row
Well after reading that I'm sure you are all thoroughly bored!! So I wont write to much more…though I do have lots more news but I guess it can wait lol.
I will be writing another entry in a few wks though!!! Because as I write this there is only 12 days to go till the Rachel con!!! We are all getting so excited, mostly because it means we will all get to see each other and spend a bit of time together, Pres is flying in from Brissie on the Wednesday and spending a few days with Nan and I before we go into the city on Friday and meet up with Sapph and Lex at the hotel to spend the day getting ourselves all pretty for the Friday night dinner!! I'm sure this will then be followed with not wanting to get up on Saturday morning because we will be to hung over, but we will just have to live through the pain I guess lol, I'm sure once we get to the actual con we will be to excited to care anyway lol.
Me I'm just looking forward to a few days of work…but that's a whole other kettle of fish, and I don't want to bore you all with that.
Oh the only other thing I must mention in this is that I am now officially going to Vancouver in March!!! I was always planning to go but figured I would get through October and then work everything out, but the tickets started to sell pretty quick so Pres and I bought tickets a few weeks ago, thank god for my new credit card or else I couldn't have done it lol. But I am just so excited I don't care if I have to rob a bank to get there!!!
Well I'll rap this up, hope everyone is happy and well, I miss you all but with work the way it is at the moment as well as the fact by the time I go to the gym and don't get home till 8 at night I don't really have time for the net anymore, I will try to make more of an effort though I promise because I really do miss you all!!
Love you all lots
E xoxoxo
Mood:
peaceful
I'm Listening Too: Pretty Woman (Cait's choice!)