Its been awhile since I have sent everyone an email, so I thought it was about time I catch you all up!!
Ok so the last time I wrote I was about to go overseas and was also awaiting the imminent arrival of my new niece or nephew, so I guess we should start with that!
Firstly I should announce the arrival of my newest nephew!!
My older sister Jana gave birth to her second child, 4 months ago, his name is Ryan Daniel and he is just gorgeous!!
His arrival was not easy, Jana was in labour for 18 hours, worse still for her at 9pd 11oz he was not a little baby!!! But he is healthy and happy and progressing well!!
Best of all he was a very considerate boy and waited until 4 days after his Aunty Erin got back from overseas to make his entrance! I was worried the whole time I would miss it, but I didn't, I was even lucky enough to be in the birthing suite just minutes after he was born!! Here are some pictures of my beautiful boy!!























Ryan and Aunty Erin



My other exciting news is my fantastic trip overseas!! I have never had so much fun in my life, it was so great doing something for myself, though I do have to say thank god I went with such a great group of friends, it wouldn't have been the same without them!!!

Vancouver

was first…all I can say is thank god it was so beautiful, cause if it hadn't been so amazing I don't think the plane trip would have been worth it!!! It was almost 24 hours between our leaving for

Syndney

Airport

and our arrival at our hotel in Van!! But as soon as we got there it was worth it!! It is truly one of the most beautiful cities I have ever seen, it reminded me of a mix of Sydney and Melbourne but with way better surroundings, these beautiful snow covered mountains, they were amazing and certainly make the city special!!!

I am embarrassed to say that our first day in Van was spent sleeping, as much as Chloe and I had promised ourselves that we would stay awake we just couldn't, so we showered then slept (not before checking out the TV situation though…Chloe was most impressed to find Stargate on TV within 5 minutes of arriving in Van lol), unfortunately we really should have stayed awake that day as we slept through the last day of sunshine for over a wk!! After quite a few hours sleep (and constant resetting of our alarm clocks) we set out in search of our friends and well…food!! We of course found the food first, the afternoon bought introductions to both Tim Hortons (the best donuts on the planet) and A & W (the most fantastic burgers and fries ever)!!

We soon found ourselves back at the hotel where after a good nights sleep we were ready to really see

Vancouver

!!!

Luckily we had a native to give us a tour…after much anticipation we were finally able to meet our friend Mavis in the flesh!! After over a years worth of conversations via the internet it was so great to meet her, and as promised she took us Ice Skating! None of us Aussies had been Ice Skating in a long time so we were all a bit wobbly but it was so much fun and luckily not one of us fell!!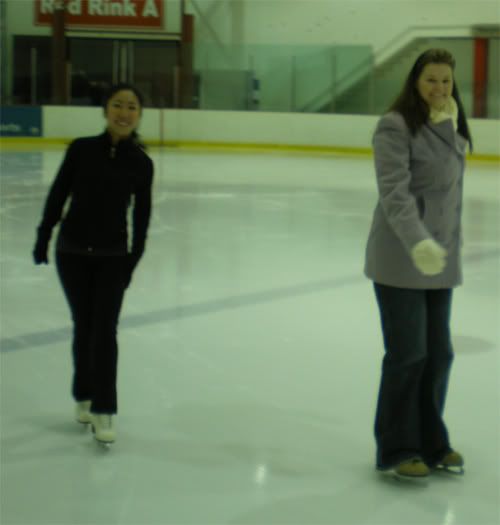 Mavis and Erin




That evening we had one of our best Canadian experiences by far when we attended a NHL match between the Vancouver Canucks and the Predators! It was so amazing to see, these guys are such fantastic athletes and the game was just amazing…though a lot quieter then an Aussie sporting match, in this stadium of like 35 000 people at some points you could have heard crickets chirping! It was still amazing though and

Vancouver

won which was even better!!
Fin Vancouver's Mascot
Vancouver tries to score



While the hockey itself was amazing enough it got even better at the end of the second period, I went for a walk to go to the bathroom and as I'm walking along Aaron Douglas (an amazing Canadian actor who I have been in love with for years he plays the Chief in BSG) walked right past me!! So after a couple of seconds hesitation I went over and started chatting to him, it was amazing he wanted to talk about Australia and what I was doing in Van etc so after about five minutes I said something about wishing I had my camera with me (it was back at the seat) and he was like oh where are you sitting? I was two sections down from where he was so he said "at the end of the game meet me back here and we will take some pictures, oh and I also have Ryan Robbins (Connor in BSG/Laydon in SGA) and Dan Payne (SG-1/SGA) with me!!" So true to his word he Dan and Ryan met Chloe, Nicole and I at the end of the game and took photos, before chatting for about ½ hour!! It was so much fun!!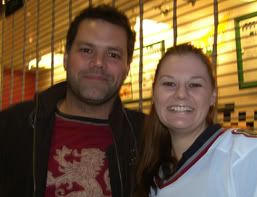 (yes it's a shocking photo of me, I couldn't stop grinning lol)

The next day was one of our most activity filled and included not only finally getting to meet the frenchies (Sab and Jess) in person but also our first trip to Bridge Studios, where we were lucky enough to meet a huge number of both cast and crew of Stargate Atlantis!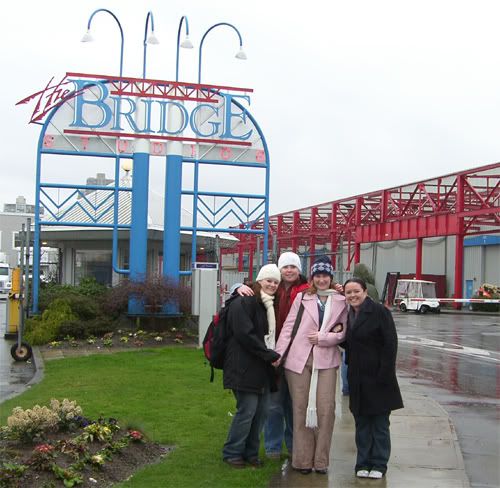 Me, Hannah, Laura and Chloe at Bridge Studios -

it was about 4°C and raining the whole time we were at Bridge, but it was so worth standing in it for about 3 hours!!

Meeting David Hewlett (McKay in SGA) was probably the highlight, however I think our most embarrassing moment was when Rachel saw us and the first thing she said was "Are you girls drunk yet?" seems we made quite the impression on her last time we met lol.

We were also lucky enough to have quite a long chat with Joe Mallozzi (Writer and Executive Producer) Martin Gero (Writer) and Ivon Bartok (Special Features Producer).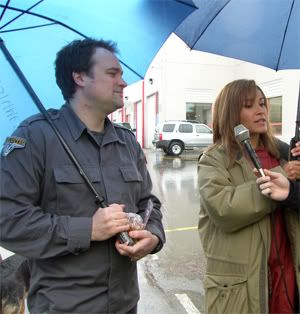 David Hewlett and Rachel Luttrell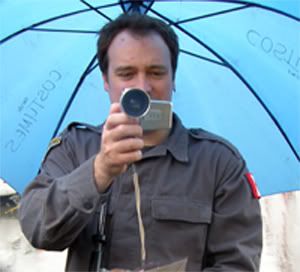 David Hewlett




Ivon Bartok - Always behind a the camera, it was nice to get a pic of Ivon!! LOL



After a few hours of standing in the freezing cold and by this stage absolutely saturated we went back to Sab and Jess' house to hang out and watch some of their latest work!! They are great filmmakers and their work was awesome!!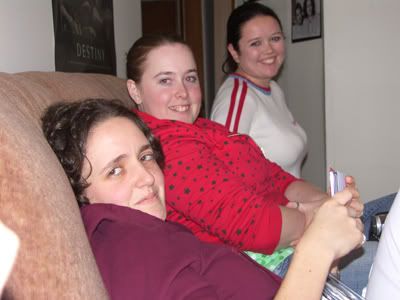 Sab, Hannah and Chloe


That night we went to dinner with the guys we met the night before at the hockey (minus Aaron who had to go to Seattle for work) as well as numerous others, they included James "Bam Bam" Bamford (Stunt Co-ordinator for SGA) and Lani one of his stunt girls, Rainbow (Ford in SGA), Damien Kindler (Writer SG-1/SGA) and Chelya (SG-1/SGA).

It was such a great night we had so much fun and took way to many photos, after dinner we proceeded back to Laura's hotel and continued the party there!!


James "Bam Bam' Bamford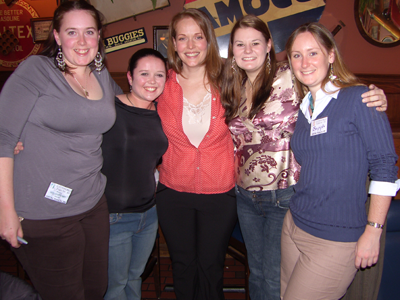 Cheyla




Dan Payne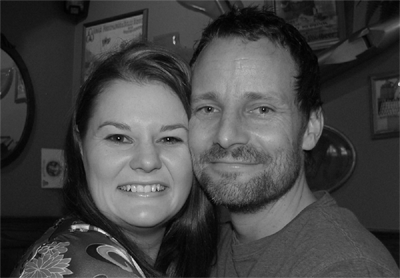 Erin and Ryan Robbins – One of the hottest, sweetest guys on the planet!!
Over the weekend was the convention that we attended, I won't start writing about it cause there is way to much information!! We had such a great time though, it was amazing especially the set tour it was unbelievable we were liking kids running around on Christmas morning, there was so much to see and play with!!! It was so unbelievable after 10 years of watching these two shoes to be sitting at the same desk Torri sits at or touching the phone in the elevator that Richard Dean Anderson touched!!! It was absolutely one of the most amazing experiences of my life and was over far to quickly!!!
Over the weekend we also met an amazing array of cast and crew and we made heaps of new friends!!!!
Heres just a few pics…feel free to skip down if you have no idea who these people are lol




David DeLuise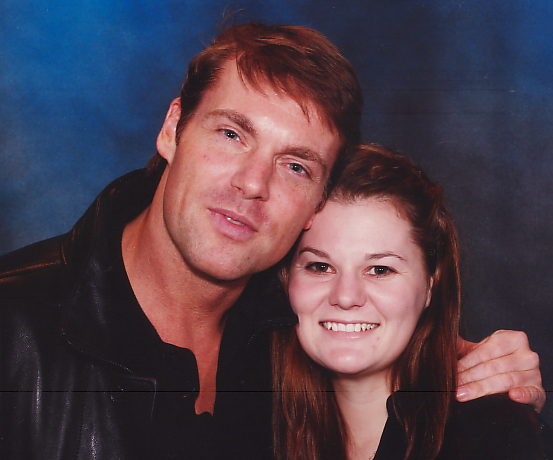 Michael Shanks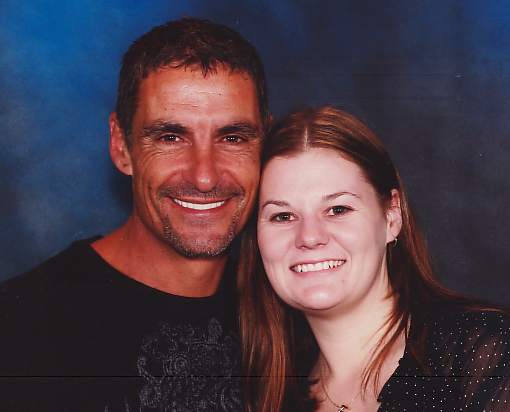 Cliff Simon




Rachel Luttrell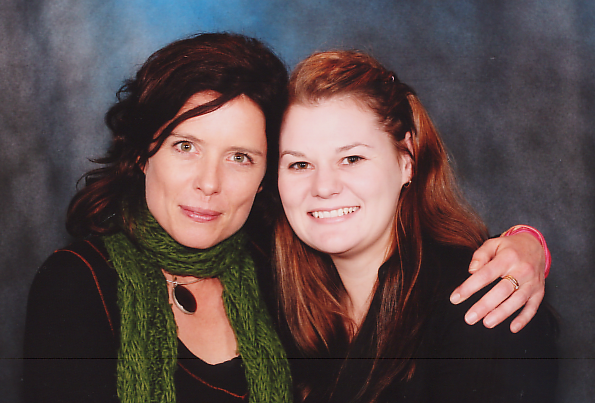 Torri Higginson




Us on-set in the Puddle Jumper



After a long and fun filled weekend we needed the Monday to recover so spent the day hanging out with Sab, Jess and Kirsten. We also spent quite bit of time shopping almost buying out the HMV superstore between the five of us!!

We were also lucky enough to get a bit of sun while we were at the beach!!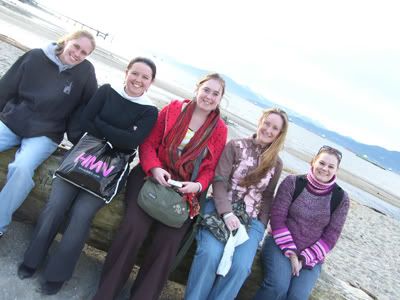 Us at Kits Beach



Over the next few days we did quite a bit of sight seeing including a trip to

Capilano

Bridge

, one of the world's largest suspension bridges, it was beautiful set in the mountains it was a sight to see!




Capilano Bridge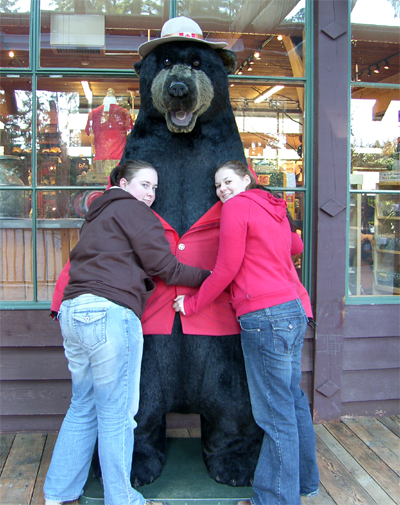 Erin, Hannah and Friend



I was also lucky enough to spend one day on my own exploring

Vancouver

's version of central park,

Stanley

Park

. It was beautiful I visited the aquarium in the park and some of the animals were amazing!! Especially the Beluga Whales!



Front of Vancouver Aqarium



Beluga Whale



I found this little guy while walking around Stanley Park



After Vancouver Chloe and I stopped in

Hawaii

on the way home. While it was an amazing place and I'm glad I can say I've visited I don't know that I would go again. We stayed in

Waikiki

Beach

which is the main tourist area and it was just so incredibly busy. But it was a great place to relax, we spent a few days at the beach as well as a great day shopping at the a huge outlet centre.

I think the highlights of our stay there though was the luau that we attended, it was great fun the food was great, the show was fantastic and there were lots of activities etc.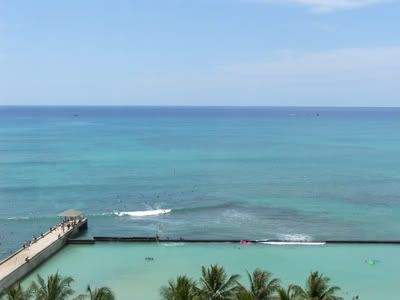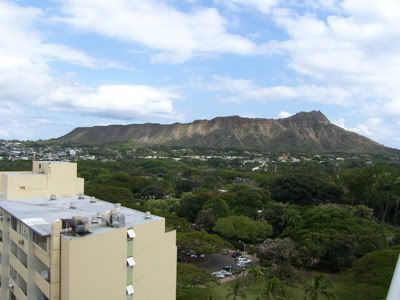 Views from our hotel



My Tattoo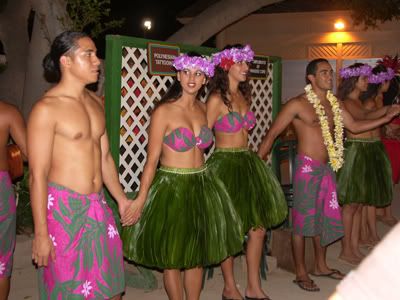 Performers at the Luau



The other highlight of

Hawaii

was a trip to Kualoa Ranch, a working farm that is quite often used for filming movies and TV shows including Lost,

Jurassic

Park

,

Pearl

Harbour

, 50 First Dates and many others. It was just beautiful and we were lucky enough to go horse riding as well as ATV (four-wheel Bike) riding! It was amazing!!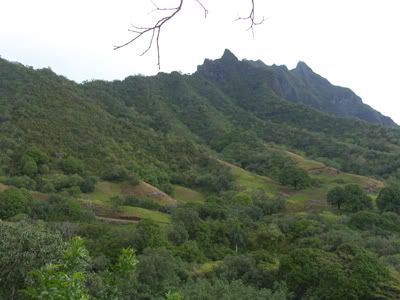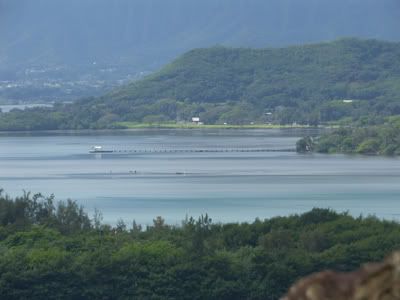 Beautiful Views at the Ranch



Anyway I think this has gone on for more then enough pages now if you are still reading I applaud you lol!!

As for the rest of my life, not much interesting is happening, I finished up my job at Baker, Payne and Webb and have started a new job at Taree City Council as a Stormwater Project Officer, I am loving it it is so interesting!!

Thankfully though this new job is a 12 month contract so I intend to work it and save enough money to move at the end of it all!!

Well I hope you are all doing well, miss you all and talk to you soon
Mood:
cheerful